Last weekend I went to Playa Grande. It's a town north of Tamarindo about 45 minutes walking the beach. It has THE best surf in the area. I started off hitting a meeting in Tamarindo in the morning. Below is a picture of the entrance. I got a kick out of what was also posted next to the sign. Sex, Tattoos, and AA. My three favorite things.
Below are two pictures of the main road in town. They are more like sewage mudd pools festering in the street.
After my meeting I meet up with two of my good friends from the states for some coffee and lunch Capt Bill and Joe G.
It was really great seeing them. Brought a little bit of home to me. After lunch they gave me a lift to Playa Grande. On the way there we hit some traffic. Silly cattle were hogging the road.
After a little more driving we had finally arrived.
I ended up finding a place to stay at the Playa Grande Inn. It turns out it had just changed ownership and they were in the process of rehabbing. So I got a room for $20 20 feet from the beach. The owners were a very nice couple from Tampa. I unfortunately don't have pictures of the place. I took a 5 minute video of it that won't seem to download. At any rate it was great experience staying with them. We stayed up all Saturday night sharing our experiences of moving to Costa Rica and having faith that God is watching out for all of us.
After I checked in I went and surfed for 2 hours. It was pretty decent. I had a feeling better waves were around the corner. So I decided to get a late lunch at the local joint KIKE's.
Playa Grande is such a different experience than Tamarindo. Its fairly undeveloped and everyone knows everyone. Plus I feel slightly safer there. After dinner I decided to watch the sunset. Below is set of different shots of sunset in no particular order.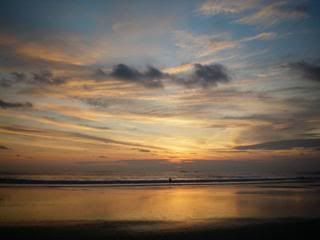 It was a very peaceful day. The next morning I woke up at 7am to go surfing and let me tell you it was firing. The sets were coming in at 8 to 10 ft on the face. There easily 60 to 70 people out in the water and this is the slow season. Apparently in January to March there can be up to 100 plus people fighting for waves in the water. Below are pictures of a couple of waves. These pictures really don't do the surf justice.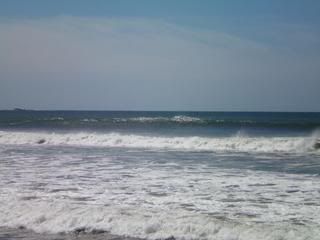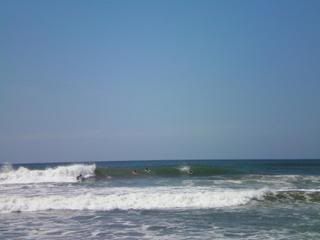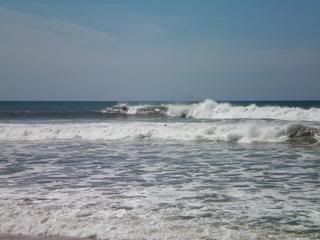 It was an excellent day of surfing. I stayed in the water until about 1pm. I couldn't take anymore. I was completely exhausted.
I ended up catching a ride with the hotel regular Spider.He is Tico. This guy was a trip. He was at least 35. He had a total of 4 teeth. Spoke excellent English and loved to rock out to Pantera. I ended up giving him my only copy of Hunter S. Thompsons Rum Diary. He gave me lift to Hotel Bula Bula where I waited for two hours for boat taxi that would take me to Tamarindo. I had a really great video of the river but it doesn't want to cooperate so the best I can do is give you this silly picture of it.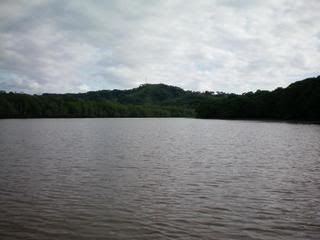 By the way if you are ever down here a 1000 colones is red bill which worth around $2 US. 10,000 is a blue bill which is around $20 bucks. A boat ride that should have cost me $4 cost me $22 because I ended up giving the boat guy what I thought was one red 1,000 colone bill and one blue 1,000 colone bill.
I'm thinking I'm headed back there this weekend. So I won't have too much new stuff. I'll try and get a picture of the place I'm staying and do some exploring. I'll leave you with a video of my new neighbor.
Leave a Reply